Pinterest has completely changed the game for business owners, bloggers, and even major corporations. It's incredible how many businesses and blogs are experiencing substantial popularity thanks to this marketing treasure.
You might use Facebook frequently to share images, status updates, check-ins, etc. However, you may share your creativity, ideas, talents, interests, and more on Pinterest!
Consider Pinterest a kind of online scrapbook or bulletin board where you can save the things you find online. For instance, you enjoy looking up new recipes online. You might add recipes to a board whenever you find one you like.
And speaking of Pinterest boards, we will talk about it more here!
What Is a Pinterest Board?
Your Pins are saved, gathered, and organized on Boards. You can create new boards when you create a new Pin or from your profile. Organize your Pins using boards to make it simple for visitors to browse your profile or explore your ideas.
Your Pinterest Pins are arranged on boards, unlike regular pictures posted on Facebook or Instagram. Users can save particular pins to collections called boards on Pinterest. Each board often has its unique theme or goal. You might have a board for social media marketing or one for graphic design.
You can make new boards from your profile or when you save a Pin. Your Pinterest profile comprises different boards that show what you like. As time passes, you can add more things to the boards or make new ones.
Can You See Who Views or Follow Your Pinterest Boards?
The answer is no! You cannot view who has viewed your board on Pinterest.
Some social media sites, like LinkedIn, have a feature that lets you know when someone else looks at your profile. You will find out when you visit the site and check your email. It will allow you to find out who viewed you.
However, Pinterest doesn't have this feature. There are ways to determine the visitors to your boards even when you cannot see who they are exactly, so if you want to see more about your audience on Pinterest through statistics. You can see these data:
Age
Gender
Location
The device used to access Pinterest
Follow the steps below in a web browser to view these statistics:
1. Log into your Pinterest business account.
2. Click Analytics in the Pinterest dashboard.
3. Choose Audience Insights from the dropdown menu.
How Do I know if my Pinterest Boards Have Followers?
1. Go to your Pinterest profile on the web browser.
2. Click "Saved" to see all the boards on your Pinterest profile.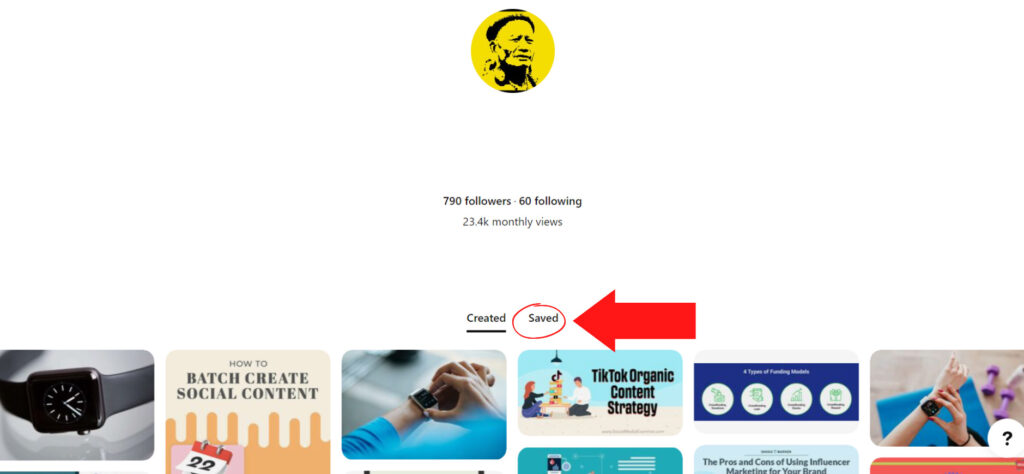 3. Choose a board that you want to see the number of followers.
4. Click the board; at the top, you can see "Followers." From there, you can see how many followers your board has. Note that the "Followers" is clickable.
How to See Your Board Followers on Pinterest?
If you look at your Pinterest account or almost any other Pinterest account, you'll see that most of your boards have more followers than your Pinterest account.
Many think tracking how many people follow your Pinterest account is the best way to determine your audience size. However, you should pay attention to how many people follow each of your boards.
Follow these steps to find out who is following your board.
Go to your profile and choose the board you want to look at. You can see how many users and pins are on the upper side of that board. If you click on it, you can scroll through to see who else is following that board.
The users aren't in alphabetical order, and it doesn't look like they're in the order of when they started following. But you can scroll to see if a particular person is or isn't following a specific board.
How Do I Get More Pinterest Board Followers?
Do followers on Pinterest matter? Although followers are not the most crucial aspect of Pinterest marketing, many of you find them significant.
You can increase your authority and credibility in your niche by gaining more followers on Pinterest. You can also boost website traffic, gain more email subscribers, free marketing for your company, and boost sales and profits.
So, to get more Pinterest board followers, you can follow these tips.
1. Weekly New Content Creation
The more you produce, the more opportunities you'll have to be discovered by Pinterest users. Create new Idea Pins once a week to engage your audience and expand your prospective audience.
2. Add Trends to Your Strategy
Keep up with the most recent Pinterest trends to produce content relevant to a broad audience. Use our trends tool to estimate the possible audiences for various topics you wish to post about. Enter a keyword to discover how many times users search for it. You can use that information to guide your content-focus choices.
3. Add Text Overlay to Your Pins
Your Idea Pins' text overlay impacts how they appear in Pinterest searches. Like SEO on Pinterest, using the proper keywords will help you reach a larger audience.
You can use the Pinterest Trends tool to find the appropriate keywords. Alternatively, you can search for your topic on Pinterest to see what keyword suggestions come up.
4. Topic Tags
You can tag your content with relevant topics before publishing using Idea Pins and video Pins. Your content will reach the people interested in what you're doing if you tag various topics relating to your content.
5. Complete All of Your Board Information
After creating Idea Pins, you save them to Boards. Just make sure you always fill out the detail sections. You can arrange them however you like.
Board titles, descriptions, and categories influence your material's appearance in Pinterest search results. To increase the effectiveness of your search, use simple, descriptive words.
Final Thoughts
It takes time to establish relationships with your audience on Pinterest. They will reciprocate by showing their love if you are active and authentic.
Pinterest is all about getting ideas and finding new things. So, not only is it a great way to stay in touch with existing users, but it's also a great place to find new followers.
The goal of this article is not only to help you gain followers but also to see who follows your Pinterest boards. In that way, you can quickly determine your target audience and use them to gain more followers by creating relevant content for them.
We hope this article helped you! Also, SEO is not a stranger to Pinterest. You might as well check out these SEO Chrome Extensions to help you rank.