Have you ever come across the Facebook jail remark?
Okay, so maybe you haven't heard that yet. Although it does not appear commonly, it does happen. It's not a real prison, so try to stop imagining prisons with iron bars and prisoners in striped uniforms.
Users who repeatedly break Facebook's community guidelines can be "put in jail" in the social network's equivalent of a real prison.
It's still important to be mindful of Facebook's policies, even when scheduling posts in advance. Planning can help ensure your content is compliant with Facebook's guidelines.
What Is Facebook Jail?
When a person is banned, prohibited from accessing their account, or prevented from engaging on Facebook, this is called "Facebook Jail."
Following the 2016 presidential election, Facebook and its CEO Mark Zuckerberg came under fire for allegedly failing to regulate and monitor the platform's content adequately.
Facebook has become a hub for sharing news and views, some of which may be accurate and some of which may be exaggerated; therefore, the company saw the need to implement additional measures for regulating posted content.
This is a primary reason for the formation of "Facebook jail."
How Long Is Facebook Jail?
You should be aware that there are two distinct sorts of Facebook jails: temporary and permanent.
Temporary Blocking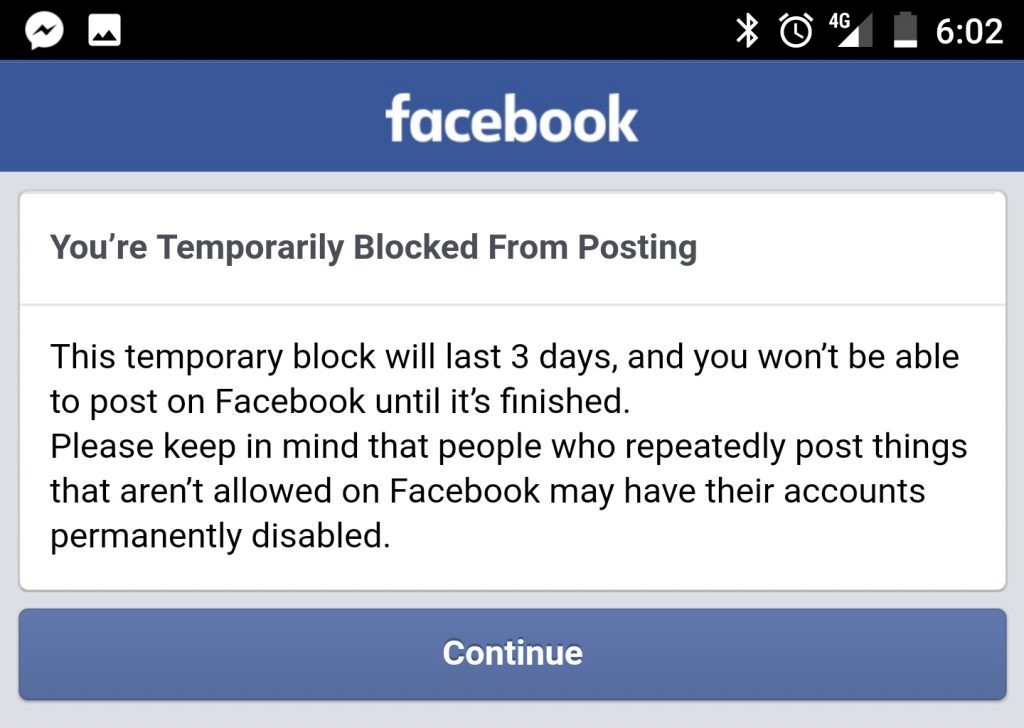 Facebook can temporarily suspend your account for a specific amount of time, usually a few hours to a few days.
Facebook's 30-day ban is the maximum it will impose. After this time, you will be released from Facebook jail and given full access to your account again.
Permanent Blocking

If you've been permanently blocked from Facebook, getting out of jail is quite difficult. One will need to appeal to Facebook, and there is no assurance that one's appeal will be granted.
Therefore, Facebook jail may be a terrible waste of time and money for business owners and marketers who have invested much in Facebook advertising.
7 Tips To Avoid Facebook Jail
Knowing Facebook's T&Cs and community guidelines is your best defense against any kind of Facebook punishment.
But let's be honest: How many people read all of the terms and conditions before signing up? Let's quickly run through some tips to avoid Facebook jail:
Set Facebook Post Frequency
Repeatedly publishing the same thing to different accounts on Facebook (such as profiles, groups, and pages) might get you banned from the social network. Leave some time between posts on separate accounts if you don't want to risk suspension for this reason. Even if it seems tedious, this is the only way out.
It's a good idea to use a social media scheduling tool to plan out your posts in advance so that everything stays on track and you don't waste time. Numerous tools exist that can serve as help while working. Avoiding Facebook's "jail" may be accomplished with relatively little effort by posting at suitable times.
Avoid Copying other People's Work
Using plagiarized work is a certain way to get your Facebook account shut down. Original content, which might be useful to the community, is encouraged and supported by the platform.
If you often post plagiarized information to your accounts, you run the risk of being reported as spam. Therefore, you should think about downloading images from Google searches to prevent getting banned from Facebook. Using original content will make your profile stand out from the crowd and get more attention.
Make sure there are no copyright or licensing concerns with any of the images you use, even if they are stock photos. Don't forget that the originality criterion extends beyond visual content and applies equally to text, video, and links.
Don't Overuse Tags
The days of using random people as photo or video filters to boost your post's popularity are over. Continuously tagging people you don't know raises the likelihood that Facebook may lock you out of the platform and harm your reputation.
In the same vein, don't bombard folks with friend invitations all at once. Similar to other forms of spam, this may have an effect on your account.
This is because, unless they already know you, the vast majority of people will not accept your request and will instead report your account as spam. The likelihood that your account will be reported and finally closed increases dramatically if you randomly join people to groups without asking them.
Avoid Engaging in Spamming Practices
Many different kinds of behavior can be reported as spam and land you in Facebook jail. To maintain your good standing with Facebook, please refrain from the following:
Don't just add anybody as a friend; make sure you know them or have mutual friends first. They will undoubtedly comply with your demands, and if they don't, they won't label you as spam either. Your account may be flagged as spam if many of your friend requests are ignored.
Do not spam direct messages with links, primarily to accounts you haven't interacted with before. Facebook requires its messenger service users to act in an honest and moral manner at all times.
As a result, if you constantly bombard people with advertisements, they will eventually flag you as spam to stop receiving your messages.
Spamming other companies' pages or groups to promote your own business is another sure way to get yourself banned from Facebook permanently.
Block Harmful People
Even if you think you have no competitors, you should assume that there will always be people who want to ruin your account by reporting anything you post for no apparent reason.
You must take precautions before being harmed by such people. Block or report users that you suspect of reporting your content if you find out they exist, such as competitors or other users.
They will lose access to your profile and be unable to report you for inappropriate content. Contact Facebook if your postings are removed without reason.
Watch How Fast You Like and Comment
You may be aware that bots may like and comment on posts automatically. They're basically just robots programmed to pose as humans online. The excessive likes and comments that they engage in causes them to be flagged as spam.
As a result, it is possible to get blocked if you are a persistent liker or commenter. You should slow down the rate at which you like and comment on other people's posts.
This also makes it possible to keep tabs on Facebook's traffic statistics, which would be impossible if too many individuals were to perform too many actions at once.
Reduce the Daily Posting Limit
It's important to monitor both the amount and quality of posts. Experts and social media managers on Facebook agree that posting no more than five to six times a day is optimal for increasing your page's exposure and interaction rates.
That being said, avoid jamming a bunch of uploads into one day. Since the point of your Facebook postings is to get people to check out your website, it is not essential to provide them with every detail about your organization there is to know there.
Throwing a flood of posts at people all at once will get you reported as spam and put in Facebook jail immediately.
Frequently Asked Questions
What happens if you are put in Facebook jail?
If you are put in Facebook jail, it means that you have violated the terms of service, and your account has been temporarily blocked. Most likely, you have posted something that is spammy, rude, or irrelevant.
The best way to avoid being put in Facebook jail is to be respectful and relevant when posting on the site. Keep your posts relevant to your friends and followers, and avoid spammy content or inflammatory statements.
How do you find out if you are in Facebook jail?
Your account's posting rights have been disabled, so you can no longer update your timeline or contribute to any of your groups or pages. You can't like other people's posts or pictures. There are no comment sections anywhere on the social network.
You are unable to access the page or account.

Is there any way to get out of Facebook jail?
To access your account, simply respond with the correct answers to the security questions you selected at account creation. You may prove your identification in this manner. Friends can also assist in solving this issue for you.
Final Thoughts
Being held in Facebook jail can last anywhere from a few hours to around three months, depending on the user's history and the severity of the violation. If someone is banned for the second or third time after being warned, they may be permanently banned.
If your business or company's account got banned on Facebook, we recommend you use Chatsilo. It is a messaging solution for Facebook and stores the history of your orders and sales.
ChatSilo is a mini Facebook Messenger CRM that assists you in nurturing Messenger leads, managing projects, keeping track of key chats, building quality connections, following up with prospects, achieving your goal, and closing sales.