Why should know the best Facebook ads courses? The platform is constantly evolving. If you cannot keep up with the trends, you'll be left behind.
Continuously educating yourself about Facebook ads will greatly help you succeed. Facebook is one of the most powerful tools that your brand can use to generate traffic and revenue. With its capabilities, you can enjoy endless opportunities.
Building your online presence is not an easy feat. You'll need to accumulate numerous skills to succeed, especially if you want to stand out on social media platforms. Fortunately for you, there are plenty of Facebook ads courses online.
Why Should You Take Advantage of Facebook Ads Courses?
Is it really worth it to invest your time, effort, and money in Facebook Ads courses?
The short answer is Yes.
If you look closely at any successful business these days, you'll find them on Facebook. Any company worth its buck invests in Facebook Ads.
Why?
With Facebook, you can reach thousands, if not millions, of prospects. And if you know which tactics to use, you can generate leads that will convert for years.
However, without the right preparation, you can end up frustrated by the platform. Yes, plenty of businesses have doubled their revenue using Facebook. Unfortunately, some haven't seen a single return on their investments.
This is why, if you want to succeed, you'll need to take Facebook Ads courses. They are the biggest secrets of any successful Facebook marketing strategy after all.
8 of the Best Facebook Ads Courses
There are hundreds of Facebook Ads courses you can find online. Choosing which ones to invest your time and money in can be difficult. Lucky for you, we've taken the time to check almost all of them out and have found eight of the best Facebook ads courses.
Here they are:
1. Meta Blueprint Courses (Facebook)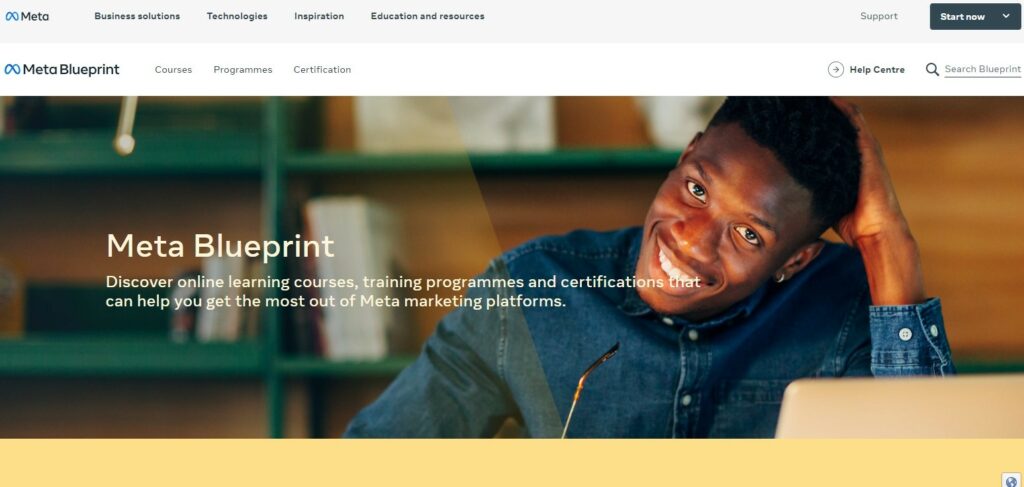 Pricing: Free
Duration: Varies
Where is the best place for you to learn how to be skilled at Facebook marketing? Well, from the source itself of course.
Facebook has its own library of Facebook Ads tutorials. The Facebook Blueprint Courses can teach any would-be digital marketer the best way around the platform.
The free courses are self-paced and cover topics for beginners and intermediate learners. Whether you're new to Facebook or improving your social media marketing skills, the courses can help you.
You can check these courses that the library offers:
Some of the different topics covered in the Facebook Blueprint Courses include:
Creating Facebook Ads
Getting Started With Facebook and Partner Measurement Solutions
Campaign Performance with Ads Manager
Ad Policies for Content, Creative, and Targeting
Promoting Your Business From Your Facebook Page
Pros:
Every course comes with examples and applications that are easily understandable
The exercises can help you practice
Courses come with additional resources to add to your learning
Cons:
You'll need to pay for the certifications, ranging between $99 and $200.
Exams for certifications are held at a few designated locations.
You'll have to pay the exam fee again if you fail and need to retake the exam.
2. Facebook Ads Ninja Masterclass by Kevin David
Pricing: $1,997.00
Duration: 15 hours 5 minutes
You may not be familiar with the name Kevin David, but you've surely seen him somewhere. He's literally everywhere on the internet. You can find him on Facebook, Instagram, Youtube, and even on several other sites.
But why is he everywhere?
Well, Kevin David is one of the best digital marketers around. And fortunately for you, he's now sharing his secrets through his course.
If you want to succeed, you'd want to learn only from the best.
Kevin will show you how to make the most out of your Facebook ads. With his course, you'll learn how to succeed without spending thousands of dollars. He will tell you his mistakes and how you can avoid them.
Facebook Ads Ninja Masterclass comes with more than a hundred in-depth video lessons. Everything is covered to help any beginner become a master.
Pros:
The course is easy to follow.
The course is thorough and doesn't skip any step, which is perfect for beginners.
It is constantly updated to keep you informed on what's new tactics and updates to the Facebook platform.
Cons:
The slow pace may not be for everyone.
It can be a bit pricey.
This requires plenty of time and patience.
3. Facebook Ads University By JR Fisher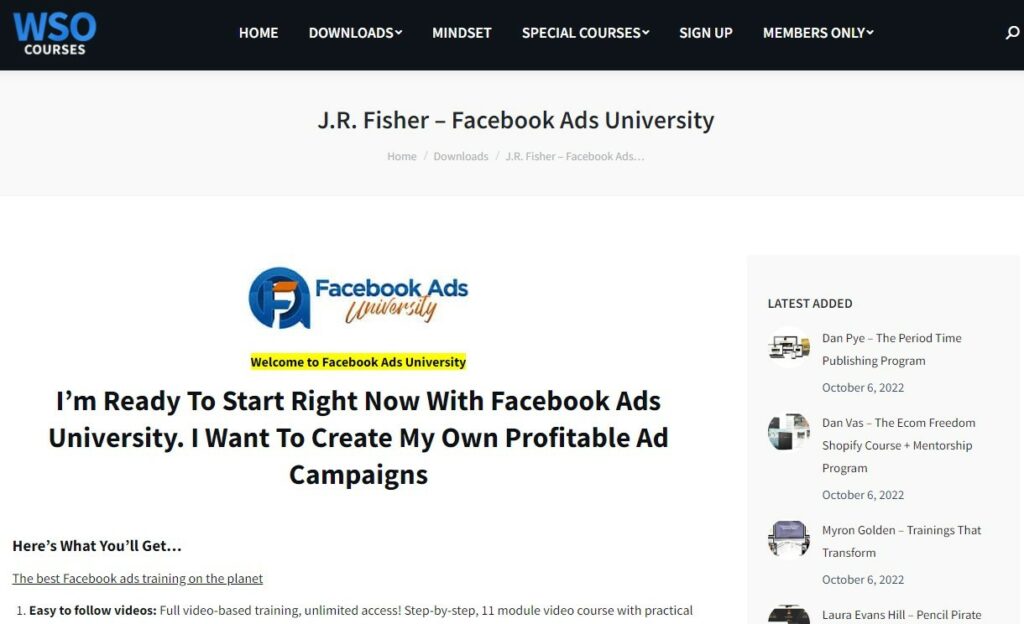 Pricing: $997.00
Duration: 50 hours
JR Fisher is one of the most respected internet marketers. He has been in the industry for a little while.
The Facebook Ads University course provides content that will teach you everything that you'll need to know. It comes with strategies for beginners and advanced learners. The course is not only extensive but also easy to follow.
What's surprising about this in-depth content is that it comes with a budget-friendly price tag. And if you still can't afford it, Fisher offers a free training webinar.
Pros:
Extensive step-by-step video-based training.
Comes with audience analyzer software.
Provides real-life examples.
Cons:
The software can be difficult to navigate.
Fisher's writing style may not be to your taste.
4. 6-Figure Facebook Ads Agency – Billy Willson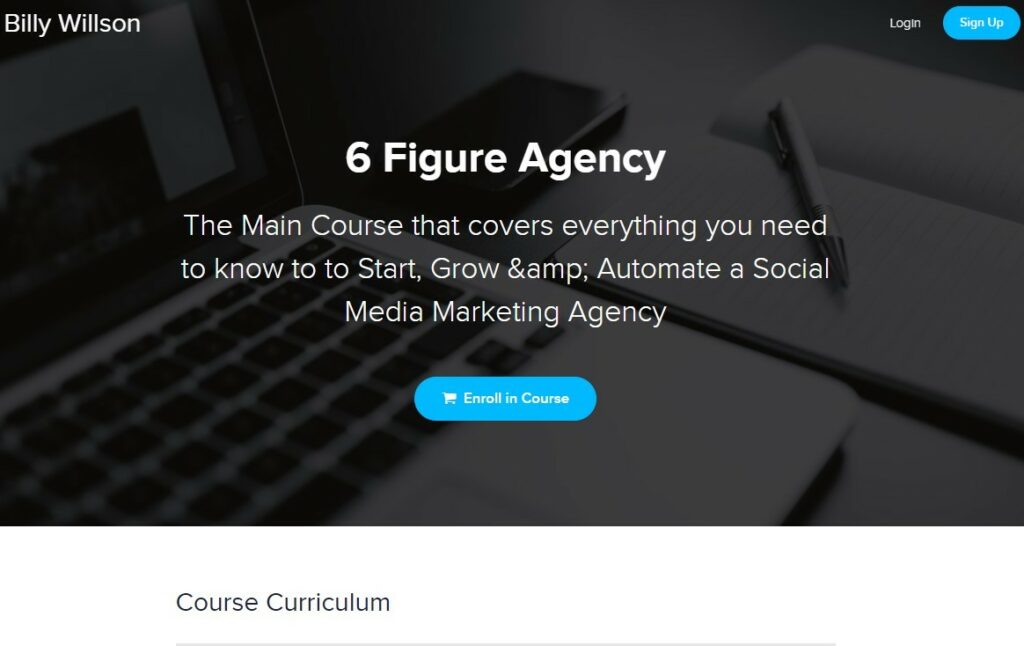 Pricing: $997. A 3-month payment plan is also available where you pay $400 per month.
Duration: 8 hours 17 minutes
If you're looking for a course you can learn how to advertise on Facebook, this course is perfect for you.
The 6-Figure Facebook Ads Agency can teach you from start to finish regarding Facebook marketing. Yes, Willson is relatively new; he's one of the most successful digital marketing entrepreneurs.
In the course, Wilson shows people how to start running ads on Facebook. This course will teach you everything you need to know about setting up a Business Manager account. You can thoroughly understand the Facebook Business Manager section.
Billy will teach you how to create and write Facebook ads. He will also educate how to effectively monitor your Cost Per Click (CPC). And at the end of the course, you can take advantage of the bonus videos about funneling for different niches. It's no wonder why this course is one of the best Facebook ads courses you can find.
Pros:
One of the easiest-to-follow courses.
This includes a cold-calling video to help you convert clients strategically.
Billy shares which ads of his have converted for him
Cons:
Plenty of trial and error before you can find the right ad for you.
Billy only lightly touches copywriting.
5. Coursenvy – The Complete Facebook Ads Course – Beginner to Advanced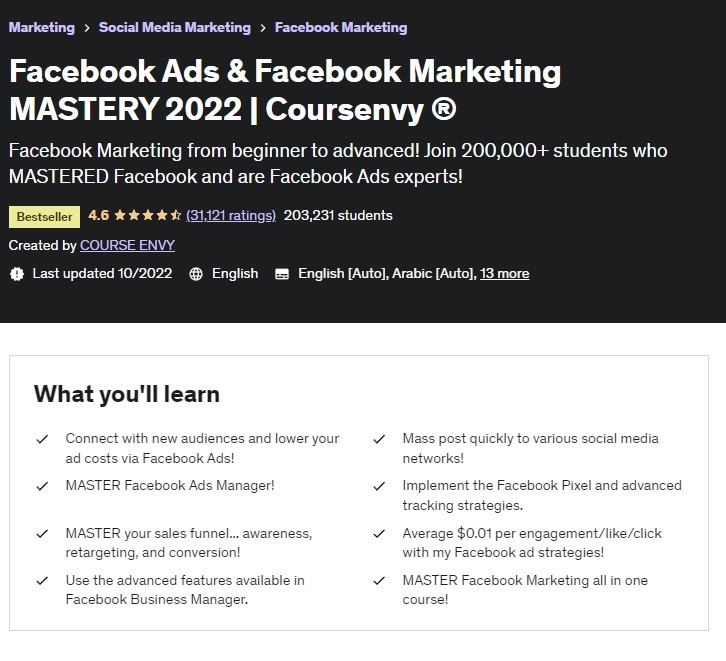 Pricing: $18.99
Duration: 6 hours
The Complete Facebook Ads Course by Coursenvy is a crash course on Facebook marketing. It's a six-hour course where you can learn basic skills in handling Facebook ads.
The biggest focus of the course is remarketing and retargeting your Facebook Ad strategies. Coursenvy teaches you how to minimize your ad costs. It also helps you avoid the most common mistakes that newbies can make. As a result, you can save yourself from wasting time and money.
The course is one of the most affordable courses you can find. You can get your money's worth with its expert-level targeting strategies. Plus, you can learn what types of ads can guarantee you success.
Pros:
Teaches you how to create video ads.
Lets you avoid common mistakes that most beginners make.
Focuses on targeting, retargeting, and remarketing your Facebook ads.
Cons:
One of the most basic Facebook ads courses.
Only advisable for beginners.
Some of the information might be outdated.
6. Advertising on Facebook: Beginner – Free – LinkedIn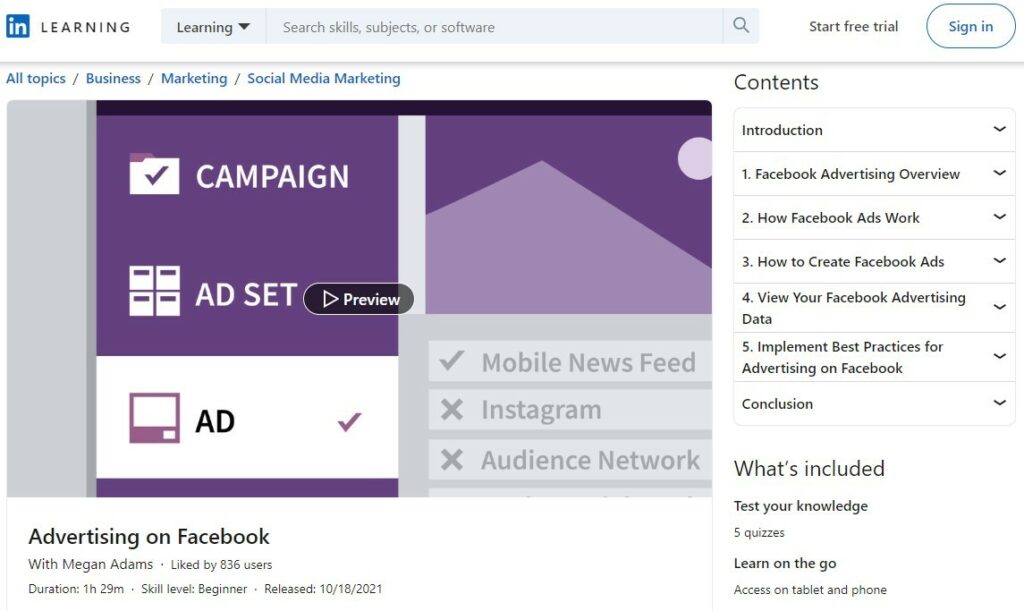 Pricing: 1-month FREE trial (Full Course: $29.99)
Duration: 1 hour and 37 minutes
If you're looking for a free course for social media marketing, Advertising on Facebook: Beginner is for you.
The course is from one of the most respected platforms, LinkedIn. LinkedIn has become a place where entrepreneurs can learn the basics. Here, you can have a tight grip on the basic ropes of how to be a Facebook ads manager.
Through this Facebook ads course, you can go through the most basic skills for Facebook marketing. Several topics will also touch on the more advanced concepts. However, again, the course is mainly for beginners.
With Advertising on Facebook: Beginner, you can learn how to use the tools needed for Facebook marketing. How setting up effective campaigns is also tackled. The course is packed with all that you need to get started.
Pros:
The course is completely free for the first month of access.
The lessons will help you familiarize yourself with numerous advertising terminology.
Briefly touches on important topics such as ad optimization, writing ads, and success metrics.
Cons:
Mostly focuses on the basics of Facebook marketing.
Only a couple of minutes is focused on copywriting.
7. Creating Effective Paid Ads on Facebook – Billy Gene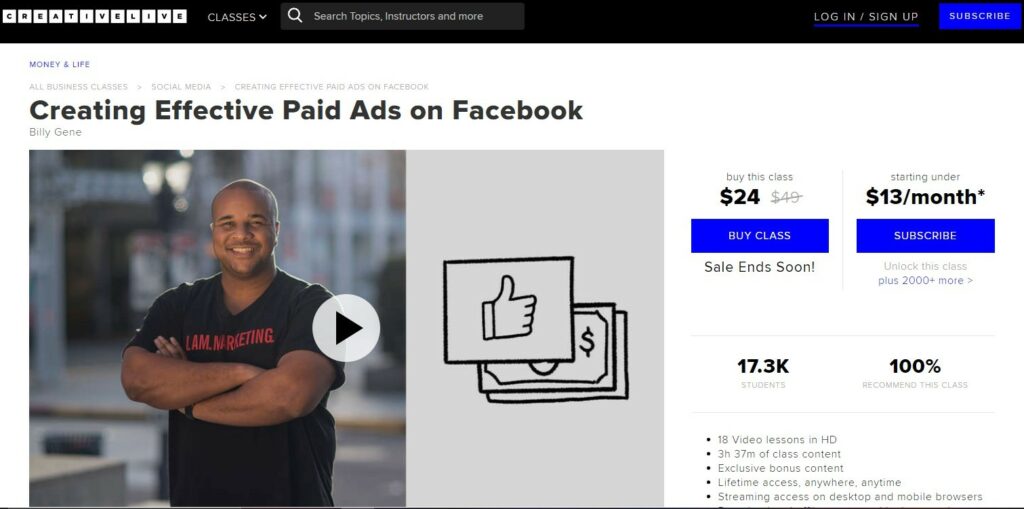 Pricing: $34.00
Duration: 3 hours 37 minutes
You may already be familiar with who Billy Gene is. He's one of the most experienced marketers you can find on the internet. He's not only active on Facebook and Youtube but also on other social media platforms. It's not surprising since he has more than 25 years of experience as a marketer.
Billy Gene effectively explains his different methods of success in Facebook ads. He has been known for his educational abilities and how well he can explain different topics.
The course is divided into 18 sections. Every section is filled with secrets that you can directly learn from Gene. It's guaranteed that by the end of the course, you can create your ads like a pro.
Gene has emphasized how a well-planned strategy can be your secret to succeeding. He reminds learners to put as much effort as possible into planning out every little detail.
You can download the workbook that comes with the course. With it, you'll understand why Billy Gene is renowned in the industry. And once you're done with this Facebook ads course, you can become your own Facebook ads manager.
Pros:
The importance of sales is emphasized.
Provides an in-depth lesson on ad copy.
The workbook can be downloaded.
Cons:
Does not teach learners the author's demographic analysis for Facebook.
Gene can be intimidating as a teacher.
Some lessons on ad copy can be too difficult for beginners.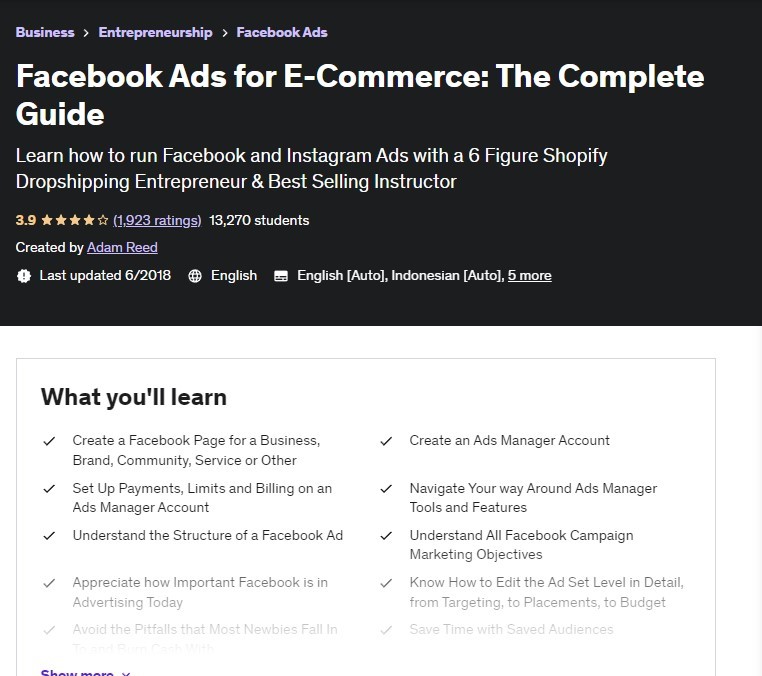 Pricing: $17.99
Duration: 10 hours and 3 minutes
The Facebook Ads for Ecommerce: The Complete Guide is one of the best paid Facebook ads courses you can find. This course from Udemy is created by Adam Reed, a veteran of the eCommerce industry.
The course is mostly made up of video lectures. Every lecture is easy to follow and can teach you what you need to know about Facebook marketing.
Adam Reed will teach you how to calculate profit margins, boost your conversions, and achieve results. He will show you how to effectively write ad copies that can outshine your competition.
With the course, you can learn the most common Facebook marketing techniques and how to apply them. You can also master how to avoid pitfalls and use the latest tools available on the market.
Pros:
Provides a step-by-step guide on how to set up your ads.
Comes with clear instructions and real case studies.
Cons:
Only has the basics for setting up your Facebook ads up.
Never shows the products that Adam Reed uses.
Who Should Take a Facebook Ads Course?
Learning from hands-on experience can take you somewhere.
But if you want a time-bound action plan to help you generate results, then Facebook ads courses are for you.
If you complete a Facebook ads course, you can better yourself at social media marketing. You'll avoid any possible failure of not knowing how to conduct an effective Facebook marketing strategy.
You can benefit from a Facebook ads course if you're:
A Blogger
An influencer
A business owner
Looking for a career in digital marketing
A social media manager
Managing a digital marketing agency and want to better your team
Final Thoughts On Taking A Facebook Ads Course
Even if you've already had experience with Facebook advertising, it's best to start from scratch. Revisiting and taking time to understand the basics can greatly help you take your first step. It's the most practical way to become efficient on Facebook marketing.
You have plenty of options to help you navigate social media marketing. Whether you're a beginner or already at an advanced level, resources are abundant. It can be overwhelming, especially if you're unfamiliar with the topic. Hopefully, the list we've provided above can help you be your own Facebook ads manager. You can choose from the free resources available or spend money on learning from the best.
Whatever you may choose to do, we recommend that you start learning from Facebook itself. They know their platform the best, which means that they can provide you with the most in-depth resources. What's a better way of learning Facebook ads courses than from the platform's own library?
To boost your Facebook marketing, check out Chatsilo. Chatsilo is the top-rated Messenger CRM tool you can use to increase your Facebook messenger leads. With it, you can manage and improve your inbound and outbound messages. The tool is your best weapon in creating, managing, and improving your Facebook messenger conversion.